LAFFORT® Awards
The research rewarded
LAFFORT® has always been involved in research and has contributed to a
lot of discoveries in modern oenology. As a result of this investment
and the quality of these innovations, LAFFORT® has received a few distinctions.
2018
LAFFORT® USA AWARDED AT THE 5TH ANNUAL CEREMONY OF THE FRENCH-AMERICAN BUSINESS AWARDS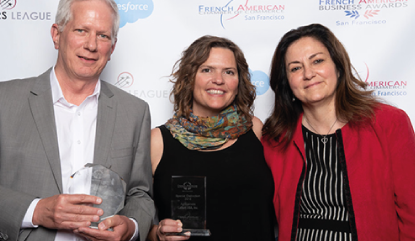 LAFFORT® USA obtained the Special Distinction in the category 'Agribusiness' at the French American Chamber of Commerce Annual Award Ceremony for its implication in the wine industry to Research and Development
"SPECIAL DISTINCTION
Laffort USA, Inc.
LAFFORT® is a fourth-generation family-owned winemaking product supplier, based in Bordeaux, France since 1895, and distributed in over 60 countries worldwide. With a history in enology dating back to Pasteur's seminal works, the Laffort group is proud to dedicate one of the largest budgets in the wine industry to Research and Development. Because of these efforts, the company holds many patents and regularly launches innovative winemaking products for the wine industry. Laffort holds HACCP and ISO certifications."
2017
FLOWPURE® - Gold medal at the Sitevi Innovation Awards 2017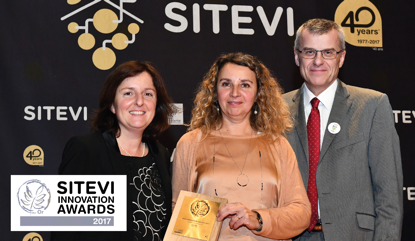 FLOWPURE® is a micronized vegetal fibre, produced with an innovative, patented procedure, making it possible to reduce the content of Ochratoxin A and pesticide residues in wines by 50 to 95%. This processing aid is simple to incorporate during filtration and requires no particular investment.
The use of the product is restricted to wine with thresholds below the legal tolerance limits and must be considered as a complement to good winemaking practices in relation to phytosanitary protection.
This product is part of the LAFFORT® strategy to develop "green technologies"; high-precision oenological solutions from nature that respect the identity of the wine.
 Vegetal fibres were authorised by the OIV last June for the adsorption of pesticide residues and OTA in filtration, and should soon be added to the European Regulation 606/2009.
2016
Flavy VEGECOLL® - Mention by the Vinitech Sifel 2016 Innovation Awards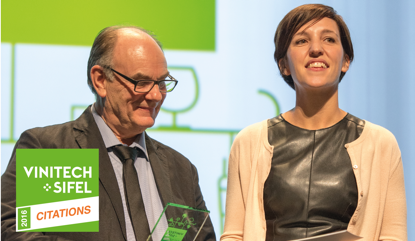 Bucher Vaslin and LAFFORT® have developed an exclusive patented process of inline fining of red and rosé wines. Flavy VEGECOLL® has been recognised as a major and unique innovation on the market.
An all-in-one process of an extraordinary simplicity
The process of inline fining of red and rosé wines relies on the combination of a cross flow Bucher Vaslin Flavy FX ICS filtration unit and an inline addition of a specific protein fining agent; VEGECOLL®. VEGECOLL® is a vegetal-based protein from a revolutionary origin, the potato, and is commercialised by LAFFORT®.
This combination allows, in a single operation, to stabilize the wine for polyphenolic compounds and to clarify and reach a turbidity of < 1NTU.
The process consists of a cross flow Flavy FX ICS filtration unit associated to an inline addition device of VEGECOLL®, placed on the supply circuit of the cross flow filter.
2016
OENOLEES® - awarded at the I+Q Awards – St. Helena, CA - USA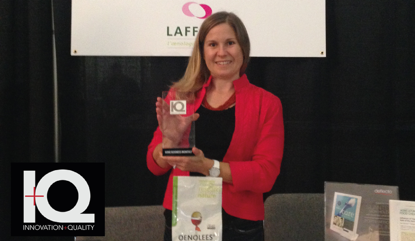 Coming from LAFFORT's research on the properties of yeast lees and their importance in wine, OENOLEES® improves the gustatory qualities of wine by reducing aggressive characters and increases sweetness sensations in dry wines. OENOLEES® and its specific peptidic fraction are patented (EP 1850682) and have often been the subject of ongoing publications for the last 10 years. OENOLEES® was awarded at the I+Q awards (Innovation + Quality), annual forum organized the Wine Business Monthly since 2015 and that rewards innovations that contributes to the progress of wine qualities. OENOLEES®received this distinction for its positive gustatory impact comparable to lees ageing and its efficiency on wine fining, notably its capacity to eliminate certain phenolic compounds responsible for bitterness and astringency.
2015
VEGECOLL® - Special mention for VEGECOLL® at the SITEVI – Montpellier, France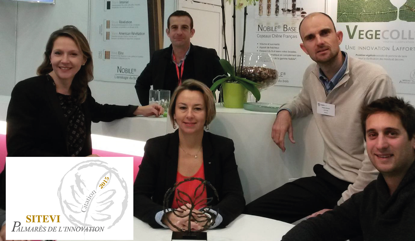 The development of  VEGECOLL® relies on international collaborations and publications recognized by the scientific community and used the most innovative methods of characterization of technological potential of proteins (Zeta potential, particles sizes, and precise composition in amino acids…).
Thanks to its remarkable fining qualities, its high concentration in native proteins and its high Zeta potential, VEGECOLL® is nowadays the most reactive protein in oenology.
3rd generation of vegetal protein in oenology, VEGECOLL® is the first fining product extracted from patatin. This special mention at the 2015 SITEVI is a nice step in the launch this product already well received by winemakers worldwide.
2015
Wine talents - Bordeaux, France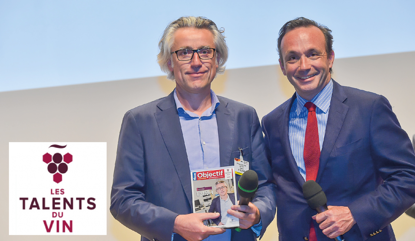 The second edition of wine talents ("Talents du Vin") organized by La tribune – Objectif Aquitaine and which rewards main players of Aquitaine's wine business in (south west of France) was held at the Palais des Congrès in Bordeaux as part of the international wine and spirits tradeshow: Vinexpo. Eight wine talents were awarded during the night. The Innovation trophy was awarded to LAFFORT® for its commitment to research and its multiple winemaking innovations that came right from their R&D laboratory. It is a great reward for our company, especially for our R&D team that develops each year new products answering winemaking issues and needs.
2006
MANNOSTAB® Golden trophy for innovation - Vinitech 2006 – Bordeaux, France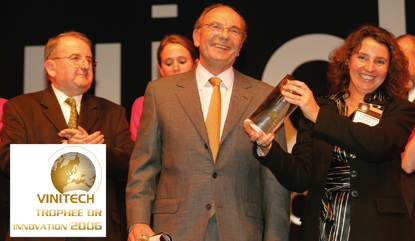 Ten years of fundamental and applied research by LAFFORT® have been necessary to isolate, identify, extract and produce yeast mannoproteins responsible for tartaric stabilization of potassium salts in wines. Launched in 2006, MANNOSTAB® is the first natural treatment based on yeast mannoproteins. Its production process is patented (2726284). It is the first time since its creation that the Golden trophy was awarded to an oenological product manufacturer for its implication in research and innovation in oenology.